The same year that Phil opened Richland Aviation, he also married Amy Daniels. Together they would welcome two children, Allison and Michael into the world. The Petrik family lived at the Sidney Airport and as the children grew out of their big wheels, they graduated to pumping gas. Later in life Phil married Patty O'Toole and together they had two more children, Kale and Kallie, both of whom call Sidney, MT home.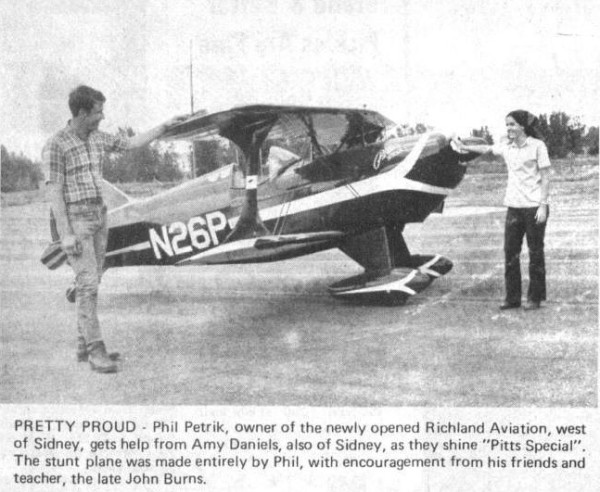 Phil's leisure time was spent honing his aviation skills and craft. Phil earned his Airline Transport Pilot (ATP) license and would later become an FAA Pilot Examiner. Throughout his lifetime, he continued to build and restore airplanes, especially his North American T-28A Trojan and eventually his cherished P-51D Mustang, "Blood Brother". One of his favorite accomplishments was to earn his formation flying certificate in his North American T-28. "I've never worked so hard at flying and been yelled at so much", he related.
Phil performed the final checkout exam when his son, Mike earned his private pilot's license. Mike remembers that his dad never pushed his own love of aviation on his children, but by exposing them to it allowed them to develop their own passion. "To be successful in aviation, you really have to want it yourself", says Mike. "He made aviation accessible, without pushing it. Maybe he was kinda' sneaky about it. When we were old enough he would say 'Why don't you grab Mark or Lauren over there and have them give you a lesson?'"
Mike and Sarah's own children have developed a passion for aviation as well. "Maybe you're born with it in your blood" they muse.